What Works. The Work Program
---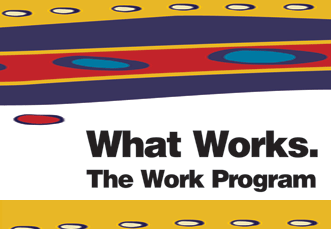 Responsibilities
Development, promotion and distribution of planning resources
Development, promotion and distribution of professional development resources
Coordination and provision of a What Works facilitator to introduce the materials and how they might best be used in the school context
Development, promotion and maintenance of What Works website
Collaboration with tertiary institutions to raise awareness of students in training institutions of the importance of improving outcomes for Indigenous students
What Works. The Work Program www.whatworks.edu.au has been operating in Australian schools for ten years now. The program is all about helping people in schools take systematic action to improve outcomes for Indigenous students.

School consultancies
We offer schools professional learning addressing particular issues and needs. Presentations may be part of this process, but it is just as likely to be the nitty-gritty of planning in a small group or generating ideas.

School–community partnerships
We provide a consultant and materials to facilitate the school-community partnership process with school personnel, parents and community members who, in time, can work together to support the education process for all Indigenous students.